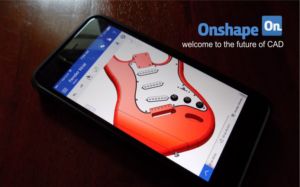 In April of 2015, I signed up to test-drive a new Beta CAD software that claimed to be a "Full Cloud-based Professional CAD System", and I have been quite impressed from the word "GO". Onshape launched the Commercial Release in December of 2015 after a very successful Beta program. It has been a little over a half year since the release and I am very surprised at just how few people that I know even know about or have given Onshape a try… it's FREE!
I wanted to sit down and write about this, in my opinion, very incredible software and share with all of you; the benefits of using Onshape. Before I go much further, I want to bring one simple idea to the forefront: there is no installation to contend with, no updates to install, and most importantly you can run Onshape on any device that runs a browser with internet access. I use Onshape on my MacBook, Windows laptop, iPad Pro, and even my iPhone, and… I never have to copy or move a file; you always pick up right where you left off.
Before I go on much further, I want to say that I have been and still continue to be a dedicated SolidWorks User, I have been for 20 years. I remember the early days of SolidWorks in 1996, where they were still in their infancy stage but showed amazing promise, and they did deliver great functionality in the next few years. I have spent over 40,000 hours designing in SolidWorks over the years and I still appreciate the program as a whole and intend on using it for years to come. The bright spot here is I can easily use both programs in tandem and realize the best of both worlds. Uploading an entire SolidWorks assembly into Onshape could not be easier; this can be done by saving out a "Pack And Go" zip file and importing it directly into Onshape. It does not carry the features for parts, but with Onshape there are many tools included to modify imported solids. It's just as easy downloading a parasolid into SolidWorks for flattening sheet metal, mold splits, or simulation.
Onshape is also in their infancy stage so to speak; at the time I am writing this, they are still working on delivering sheet metal capabilities, advanced surfacing and other functionality. I have seen this development process before; be patient, it works. Where have I seen this before? SolidWorks. Here is the big kicker; key members of the original SolidWorks brain trust started Onshape, and they are better than ever. Onshape releases updates to the software around every three weeks, most of which comes from user input, and everyone is always on the same version. No more worrying about backward compatibility or having multiple installs on your local computer because your clients are on different versions. If you use a CAD program, please do yourself a favor and read on as I outline the major benefits of the Future of CAD below.
Getting Started – To begin using Onshape, sign up for an account, there are four options: a FREE account or "Freemium" as it is called (to try it out), a Professional account for $100 per month, an Educational account for students and teachers (also free) and an Enterprise account for larger team usage. As of May this year, over 800 colleges were using Onshape; can you see the writing on the wall? Once your desired account is set up, simply log in and you are set to go. There is no installation, no additional licensing or subscription costs, no version types or incompatibility issues, ever. Being a "Full Cloud CAD" package, all updates are handled automatically and there are never any hardware or software limitations. Onshape can run on any device with a browser, and on Linux, Windows, Mac, or even a Chrome Book. Onshape saves your work following each executed command; you do not need to be concerned about ever losing your work due to software crashes.
File Management – Onshape has built in version control and the ability to branch off of any version of a part studio to create multiple versions of parts in a single file. You can even roll back to any point of your design and branch off your file to create optional geometry. It is also possible to work with in progress and released states of your design simultaneously. It is not possible at anytime to overwrite previous versions of your files. Onshape eliminates the need for PDM; no need for checking out or checking in files. You can generate part numbers and revision labels in Onshape. Your files are saved and remain in the Cloud on Onshape's servers and not on local machines or in house servers. Onshape claims that their security is second to none and much more secure than sending files via email, saving on local computers or uploading to FTP sites.
Design Control – If you are already familiar with CAD, the transition to Onshape is a relatively easy learning curve. You will find very familiar commands and icons, but in a simplified UI. The major difference with Onshape is with files; Onshape has "Part Studios" which can be a single part or a large number of parts. Part Studio Tabs can include parts, assemblies, drawings, images, PDF, Word, Excel and many other documents. This allows the user or team of users to keep all specifications and documentation all in one place for future reference, or even keep a complete design history file.  Part Studios make it easy to build multiple parts and static assemblies with a single feature history file. Modifications on multiple parts help ensure fit and functionality between components and can be edited very quickly updating several parts at once. Complete Part Studios can be inserted into an Assembly. Assemblies in Onshape work a bit differently; they use connector mates that allow you to use assembled parts and sub-assemblies to show movement. Onshape allows you to work smarter, not harder.
Collaboration and Sharing – This is a key benefit to Onshape; you can share your files inside Onshape with anyone by sending a link via email. You may choose various permissions for the people you invite; they may view, edit, or download the files you share. You may allow access for your clients to review their projects at anytime, watch the progress and even leave comments. It is also possible (if users all have edit permissions), to edit parts or assemblies simultaneously, IN REAL TIME, and will track which users made what modifications. Parts and drawings can also be shared with vendors who can decide which file types they need to download if download permissions are allowed. I have myself stopped while on the road, made a slight change to a part, updated the drawing and my client had access to their files in minutes; all done on my iPhone. Although you can download various file types from Onshape, your files never leave Onshape. It is however possible to share your files with other Onshape Users or make them Public to all Users. Documents are saved in Onshape in a similar fashion to Google Docs.
Training – As mentioned earlier, the learning curve is minimal with Onshape if you have experience with other professional CAD programs. To help you get up to speed quickly, Onshape has many training videos, documentation, and recorded webinar content at your disposal, and best of all it is all free. I myself am a self-taught Onshape User and I have been using it for "Live" programs for quite a while. All of the afore mentioned learning content can be found on the Onshape website under the "LEARN" category.
App Store – Onshape has several Technological Partners, which provides software that works within and along side their program. These Apps include Rendering, Simulation, Hardware/Components, Electrical and many other solutions to assist with various aspects of development. Some of the Apps in the store are free while others are SaaS for a monthly fee. I have personally used several Apps here and they are fantastic. Many developers are adding to this list all the time, I keep a constant eye on this area to see what comes up next. Aside from the partners that bring you downloadable part libraries inside of Onshape, there is also the public library inside of Onshape, which is searchable and easy to utilize.
Wrap Up – I guess in the end what impresses me the most about Onshape is the fact that they are building this product geared toward the way CAD users want to work today. Onshape is aiming to fundamentally change the way engineers and designers work. For the first time, design teams spread across the room or across the world can collaborate on the same CAD model at the same time. Onshape is also an invaluable tool for start up companies not only because it helps keeps costs down right off the bat, but it is also a great tool if your design teams are distributed in various areas.
Nova Product Design is a Consulting Partner to Onshape and we use this new CAD program to design and develop products for our clients regularly. Nova Product Design is a turnkey product development firm in NW New Jersey, we help our clients develop products from concept to production. Should your company require these services visit our website at www.novaproductdesign.com. We have a link to Onshape on our Partner page that will take you right to where you need to go to explore the software and sign up. If you have any additional questions about what Onshape can do for you or your company, please feel free to contact me directly by email, [email protected].